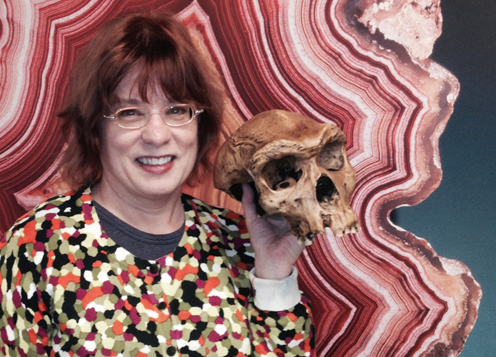 After receiving a degree in Studio Arts from the University of Minnesota, I began my career as an independent illustrator and designer specializing in translating complex concepts. I was an early adopter (1980's) of digital tools, creating interactive multimedia presentations for corporations and publishers. Mixing traditional and digital media allows a full expression of complex ideas and is an approach that continues in my current work.
A childhood interest in science, especially human evolution, was awakened by the Human Genome Project. The draft sequence completed in 2001 was clearly a big deal but what did it say about me and my DNA?
I found out five years later when The Genographic Project made scientific DNA research personal. The project was one of the first studies that included public participation. I ordered a kit, sent in my DNA sample, and seeing my Northern European heritage (haplogroup H) mapped across the continents through deep time was an electric experience. I had to know more.
As I learned about the field of molecular anthropology, I started to draw, write, and talk about the amazing discoveries in human evolution. The outcome of my research were portraits based on mtDNA and Y chromosome data from real people — willing friends and colleagues.
Since then, my professional endeavors are focused on working directly with scientists in the field of evolution and human genomics. Residencies at the Baylor College of Medicine, the Bioinformatic Group at "Be the Match", at the National Evolutionary Synthesis Center and as a Fulbright Senior Scholar to Israel have expanded my knowledge and portfolio.
I'm also motivated to help reverse the growing misunderstanding and under appreciation of basic research. Science is key to the health of our economy, environment, and our citizens. It's more important than ever to show the value and benefit of basic research to policy makers and tax payers — citizens around the world who impact future progress in every society.
About the image shown above
That's me with Heidelbergensis. I found him in a drawer at Q?rius, the new exhibit at the Smithsonian National Museum of Natural History. Mr. H's skull was found in Zambia, Africa, where he lived sometime between 300,000 to 125,000 years ago. Hominids like him are thought to be direct ancestors of modern humans.