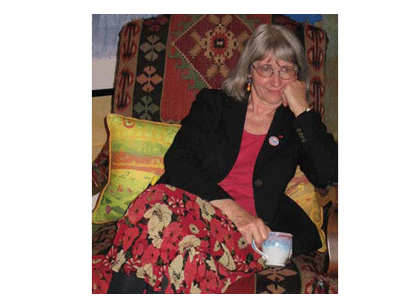 I invited Dr. Eugenie Scott, Executive Director of the National Center for Science Education (NCSE), to talk about her new book and the ongoing efforts to teach science and evolution in the K-12 classroom. (Hear the 40 minute interview below)
I met Genie when she was in town to speak on the topic of "Renewing America through smarter Science and Technology Policy". It was 2009 and a big year for Evolution and Science. Genie was right on top of it with speaking engagements all over the country.
With all the traveling, I thought she may like to relax with a cup of tea. So while she was in town, I invited the members of the Minnesota Citizens for Science Education to come to my studio for conversation with Genie.
Greg Laden was there and we had such a good talk I wanted to get us together again. When her book was published, "Evolution vs Creationism", I asked her to join Greg and I on the air to discuss her book, her work and the ongoing efforts to improve the teaching of evolution, and science as a way of knowing.
About the image above
Genie Scott visits Lynn at her Minneapolis studio.
Interview with Dr. Eugenie Scott (40 minutes)