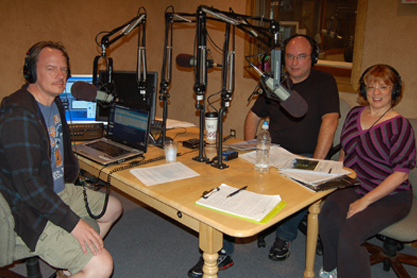 Most know Ira Flatow as a science journalist, producer, and host of "Science Friday", broadcast on NPR every Friday afternoon. But did you know about his Minnesota connection? He was the original host and writer for the Emmy-award-winning "Newton's Apple", which originated at KTCA in St. Paul, Minnesota.
Ira spoke with Greg Laden and me from his NYC home for a live radio interview on Atheist Talk. The focus of the conversation was the major changes Ira sees in delivering science news and effectiveness of new media for science education. (Hear the 40 minute interview below)
Science is changing our culture and Ira had insights on the value of communicating science through the humanities. Ira Flatow is a national science journalist working in multiple media: TV, web, blogger, national speaker and book author, and most widely known as the host of the very popular radio show "Science Friday" which is a major stopping point for science geeks on their weekly rounds.
About the image shown above
On the left is Mike Haubrich, in the center is Greg Laden, biological anthropologist and author, and me (Lynn Fellman).
Ira Flatow talks about science and the media. (40 minutes)