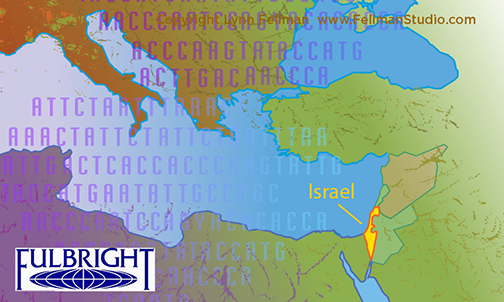 The U.S. Israeli Educational Foundation has granted me the Fulbright Scholar Award to develop a multimedia project at Ben Gurion University of the Negev. I'll be working with Professor Dan Mishmar, evolutionary geneticist, at Ben Gurion during the 2014-2015 academic year.
I'm stunned at my good fortune. Prof. Mishmar and I began discussing a collaboration at Cold Spring Harbor Lab two years ago and at other scientific meetings more recently. My proposal to Fulbright was the outcome of thoughtful conversations and my curiosity about the coevolution of mitochondria and nuclear DNA.
The collaboration has two 
tangible outcomes; an animated video for viewing on the internet and a lecture using images and narrative from the video. The lecture will be presented to faculty and students at Ben-Gurion University and a modified version for the general public. The video and lecture focus on Prof Mishmar's research on evolutionary principles that control human genetic variability in the mitochondrial genome. 
Click on "Fulbright Award" in the categories column on the right to see all the articles about my research project at Ben-Gurion University, Israel.