It was raining in the desert. Walking out of the train station into the delicate pitter patter and slate sky made me wonder if the patter would turn into serious rain. But no. Like ultra cold Minnesota winter air the ultra dry Be'er Sheva desert air whisked away most of the moisture.
Even so, this is a winter storm the taxi driver explained. The ten minute ride brought me to my little apartment, glad to be where I'm supposed to be and on time no less. Bags on the sidewalk, I took deep breath, stood and just stared. Professor Mishmar warned me the outside looks rough but the inside is nice. He was right for my little place is modern, quiet, pretty and for the next four months it is all mine.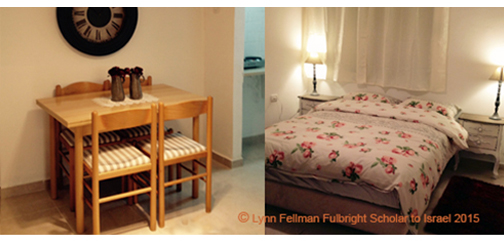 My apartment on Rager Street is one of dozens in a chunky, drab, 1960s style construction. Identical buildings line Rager for blocks and blocks, two and three deep. Drab but very sturdy, these buildings were homes to thousands of immigrants coming to Israel during the 1950s.
Sturdy is good for many reasons but especially when Phil said, "the bombs from Gaza come from the West and since my place faces East I'll be okay if the windows blow out." No worries, I thought to myself, for I'm in a chunky, drab, and pretty safe little place.
Who is Phil and what is it like living near potential danger? Click on the "Fulbright Award" category on the right to see future posts about my four month visit to Israel during my research project at Ben-Gurion University in Be'er Sheva.