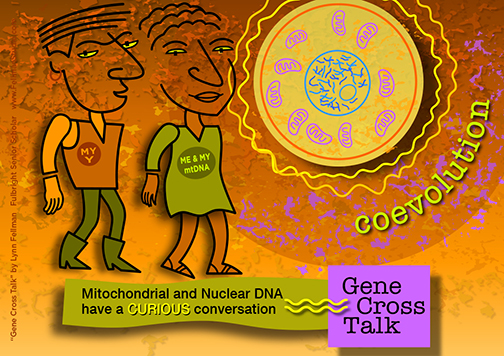 This is an image from "Cross Talk for Coevolution" an animation about the curious conversation between two kinds of DNA. The DNA in our nucleus (nDNA) gets most of the attention. But the other kind, mitochondrial DNA (mtDNA), is important too. Mitochondria is an organelle with a small, unique genome. The fascinating thing about DNA in mitochondria is that it exchanges information with nDNA so they can stay in synch. That's the curious conversation for coevolution explained in "Gene Cross Talk".
The 3 minute, 22 second animation was funded by the Fulbright Foundation and Ben-Gurion University of the Negev (BGU). You can watch it here and listen to my explanation about making the animation here. It was produced during four months in Israel as a Fulbright Senior Scholar in Professor Dan Mishmar's lab at BGU.
The animation is my latest project from a decade long fascination with genetics, especially our ancient and personal genomes. My interest was sparked in 2005 by media stories about "Mitochondrial Eve" — explained as one woman from a biblical era. The science is much more fascinating than the myth. Not only does mtDNA provide many important functions for our cells, it is only passed from mother to daughter through many generations way back to a small ancestral population living in Africa about 200,000 years ago.
As I learned more about my female specific code, I felt compelled to make a statement emphasizing science rather than biblical myth. I came up with a version of my female ancestor as an iconic, fertility-like figure similar to small excavated neolithic sculptures (below). Short, squat and round she is growing the double helix from a gene garden. She shows possible admixture phenotype with asian eyes and african features.
Contact me if you'd like to purchase a version of this image.