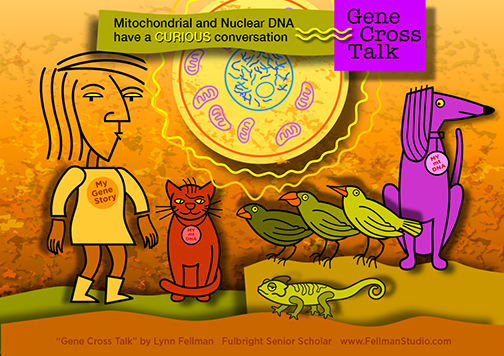 One hundred and twenty days in the beautiful Negev Desert at Ben-Gurion University (BGU) was an intense, memorable experience. I was there as a Fulbright Senior Scholar to work with Professor Dan Mishmar, evolutionary geneticist. Located in the heart of the Negev in Beer Sheva, Israel, BGU is known for excellence in the biological sciences. In fact, University President, Dr. Rivka Carmi, is a geneticist who led research uncovering the genetic basis of new born diseases in the Bedouin community.
I was working at the University in Dan's lab to make an animation about his research. Dan investigates the fundamental mechanisms of the mitochondrial genome. This is basic research at it's most creative and about a topic I've been studying — mitochondria, genetics, and evolution. You can watch an animated explanation of the process to develop the work.
I knew Dan from saying hello to him at scientific meetings. During the Society for Molecular Biology and Evolution meeting in Dublin we sat down and hatched a plan to make an animation based on his research. Looking for funding for a U.S. and Israeli project like ours, the Fulbright Foundation seemed to be a good match. After an arduous process my proposal was accepted, so I packed my multimedia studio and arrived in the desert during a fragrant rain storm.
Week one and two were spent discussing the intent and focus of the project. I listened carefully to what Dan hoped to achieve. We considered the audience and why should they care? We decided to aim for the general public and to evoke curiosity about evolutionary genetics.
From the many areas of his research, I elected to focus on the coevolution of mitochondrial and nuclear DNA. Do the two codes that make up our genome really talk to each other, I wondered? It seemed quirky and intriguing and if I thought so then other people might be curious, too.
I showed my work to Dan in stages to check facts, get his reaction and ideas. Then I began turning sketches into illustrations, refining and timing the script, selecting the music, and recording narration. Assembling the elements in my animation app was the most intensive part of the process.
Making a three minute animation is a lot of work. So why bother? Why should we care? It's personal. Our gene story adds a new layer to our identity changing our sense of who we are. Soon all of us will have our DNA sequenced and we'll want to know what it means to be active participants in our health and well-being. Gene savvy citizens can help direct more informed public policy to encourage support for basic research.
That's why showing the beauty and benefit of science and evoking a sense of wonder and curiosity to know more is important. After all, evolutionary genetics is fascinating. Especially the mitochondrial genome and the curious the curious conversation in our code. You can watch the original, uninterrupted version here.