What if a person visited a different museum each week for fifty two weeks in Washington D.C.? Would she see all of them? Looking for sensory and brain stimulation I'm going on a Museum Quest. First up — the National Museum of Women in the Arts occupying this gorgeous classical revival style building.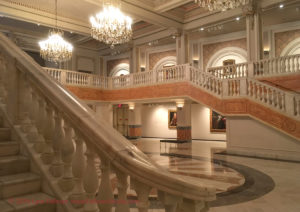 The collection begins chronologically with work from the 1600s when women weren't allowed to receive training or exhibit their art. These words are repeated for each example in the museum right into the early 20th century. Lavinia Fontana caught a break because her husband was an artist and her patron was a wealthy aristocrat. Fontana's "Portrait of Constanza Alidosi" is pictured below, ca. 1594.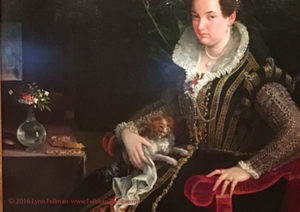 Are there any tip-offs that a work of art is made by a woman? No. Not by color, style, materials, quality, historical or contemporary importance. But sometimes by subject matter like "Tupperware Transforming a Chaotic Kitchen" a ceramic work by Honor Freeman (2008). The real tupper-stuff was part of my girl-to-wife-domestic training. Ugh! The long ago insult was made ethereal for the artist said, "the velvety surface of the porcelain are like ghosts or memories of a past form".