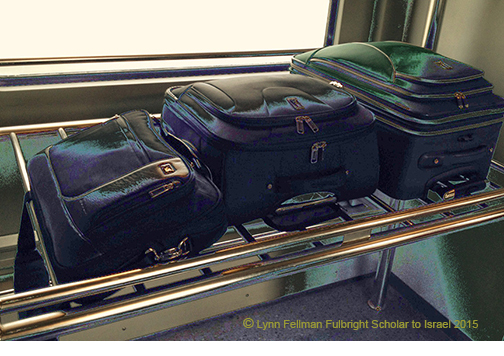 Across seven time zones, travel to Israel started with a cab ride from Capitol Hill to Reagan National Airport, one hour DC to JFK, ten hours in the sky to Ben-Gurion Airport in Tel Aviv and a cab ride to a hotel. I stayed for a few days to reconnect with my inner biome, adjust my molecular clock and meet with the program director in the Fulbright office. Warm greetings and instructions then to the central train station to arrive in Be'er Sheva in the afternoon.
Lugging my small but very plump and heavy bags onto the train, the ride was fast, quiet. Past farms, olive trees, vineyards, green-green-green and then boom — brown, dirt, sand, desert. Stepping out of the train into air-like-paste but fragrant. Like throwing a pot on a wheel, it was moisture mixed with sand in a cool wind. I couldn't have arrived at a better time for it was raining in the desert.
Click on "Fulbright Award" in the categories column on the right to see all the articles about my research project at Ben-Gurion University, Israel.