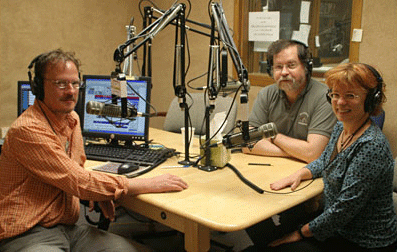 Dr Paul Myers is an Associate Professor of Biology at the University of Minnesota — at the Morris Campus. His research in his lab uses zebrafish to understand embryonic development. I found out about PZ by reading his column for SEED magazine. The emphasis on Evolutionary developmental biology (Evo Devo) and his sense of the aesthetic caught my attention.
Many of us know PZ Myers through his well-known blog Pharyngula. But he is a working scientist, an educator, and a terrific science writer as well.
About the image shown above
That's PZ Myers in the middle, Mike Haubrich, host of the show is on the left and I'm in the interviewer's chair on the right.
Lynn Fellman talks with Evo Devo Biologist, PZ Myers about the shared genetics of a bat's wing and a mouse's leg. (40 minutes)