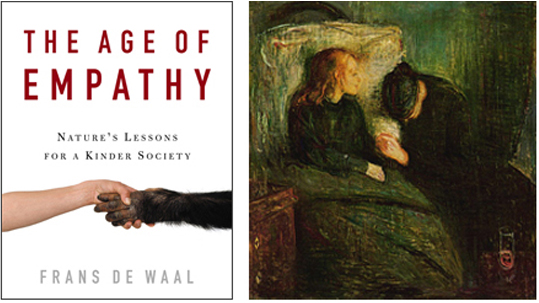 Empathy is our evolutionary heritage
If you've been following Frans de Waal's work you know that he is a respected primatologist and best selling author with a new book, "The Age of Empathy: Nature's Lessons for a Kinder Society".
Evidence shows that empathy engages brain areas that are more than a hundred million years old. It's part of a heritage as ancient as the mammalian line. He reminds us that through a common ancestor, we share traits with the chimpanzee and the bonobo — a complex mix of both aggression and cooperation.
First we feel it, then we think it
One example that links humans to other primates is de Waal's "emotion first theory". Although we often focus on the face, our entire bodies convey emotion. In fact, we trust postures more than facial expressions. Our bodies show how we feel in a language that is immediate and honest.
Art can create an emotional response
The emotional power of line and shape is appreciated by artists. I had an illustration assignment to depict moods with figure drawings with this challenge: show fear, sadness, despair — without showing faces. Two of the many illustrations for the project are shown below.
My approach was to use brush and ink on paper to get the right shapes. See how the varied line weight describes the shape of the figure, curved and hunched in despair? Using thick and thin lines to convey mood is gestural drawing — a way to capture emotional energy with marks on a page.

Watch out! Like a yawn, it's catchy
Another aspect of "emotion first theory" is "emotional contagion". You smile, I smile, and we both get happy. Yes, you guessed it — the drawing assignment was a depressing affair. As I drew, I started to feel sad. My drawings became more expressive, though — a surprising bonus for the project.
De Waal speculates that empathy started with maternal care. Perhaps there is a strong pressure to select for females that respond to their baby quickly. For example, his research shows that women are more in touch with facial expression. Gender doesn't always trump, though. Shown next to the cover of the book is a compelling image of suffering and loss from the artist that also painted "The Scream". An example of art by a man (like Frans de Waal) who had a double dose of genetic empathy.
About the Images shown above
1) The cover of Frans de Waal's book and Edvard Munch's painting titled "The Sick Child" are shown at the top of the page.
2) Towards the bottom of the page, line and shape depicts mood in two brush and ink illustrations by Lynn Fellman in her art and science blog.