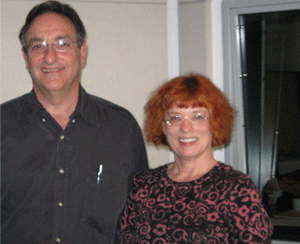 Ira Flatow, host and producer of Science Friday, invited Daniel Kohn and me for a discussion about how science influences their art. Broadcast live from NPR's Manhattan studio, click on the player (below) to hear the 18 minute interview.
I've been attending some of the science conferences celebrating The Big Theory of Biology, Darwin and Evolution. My art is all about evolution so I've shown my work at some of the meetings as well. One of the most prestigious and just plain thrilling was the symposium at Cold Spring Harbor Lab at the end of May. The top RNA to DNA to Human Genome researchers presented their latest science. E.O. Wilson, Pinker, Venter, Dennett — the best thinkers of our day.
I displayed my work at the five day symposium on Long Island but skipped one day and hopped the train to Manhattan. I had been invited to be on Science Friday with Ira Flatow. Keeping my nerves in line and my wits about me on the one hour ride was challenging. I'm a little smug about being city-savvy, living in downtown Minneapolis. But the looming skyline reminds me that my Minneapple city could tuck unseen in a wee corner of the Big Apple.
An easy walk from the train station to West 43rd street, five blocks to the NPR building, and up the stairs to the studio and I made it on time. I watched the minutes tick while getting a few pointers from the producer. "You're on in three" she says and leads us into the sound room to chairs around a big round table. Ira says hello and then all business, disengaging from the previous interview and now getting synched with us. He told me later, the secret to good on-the-air presentation is good multitasking. I watch as he scans his notes, then an eyeball on the clock, voices in his ear — now a voice in my ear! We're on the air.
I sit up straight and switch on my brain for a fast, once-in-a-life-time radio ride. I've had some experience on live radio so I'm not too nervous. Ira begins the introductions and I watch as a pro manages the pace and conversation with a nod, a glance — making sure Daniel and I take turns nicely.
I'm still musing on conversations during and after the show. More than ever science is key to our survival. Yet most people don't like science, don't understand it, vote against it. We need good communicators to translate complicated ideas. Journalists like Ira Flatow take the lead through words and other media, artists contribute with the visual language. Both engage the public in a unique and powerful ways.