Art can evoke an emotional response but for real impact, nothing beats pairing creative images with explanations of science to start people talking, thinking, and saying "Ah-ha, now I get it!"
Radio Interviews
Science Friday producer and host, Ira Flatow, invited Fellman to discuss how science influences her work on the air. The conversation, in NPR's New York City studio, referenced her art show on Long Island at Cold Spring Harbor Lab that was currently on display.
A few months following Fellman's SciFri interview, Greg Laden and Fellman interviewed Ira Flatow on "Atheists Talk" radio about changes in delivering science news and use of new media for science education. Shown below: Ira Flatow and Fellman at the PEW reception for Science Friday in Washington, D.C.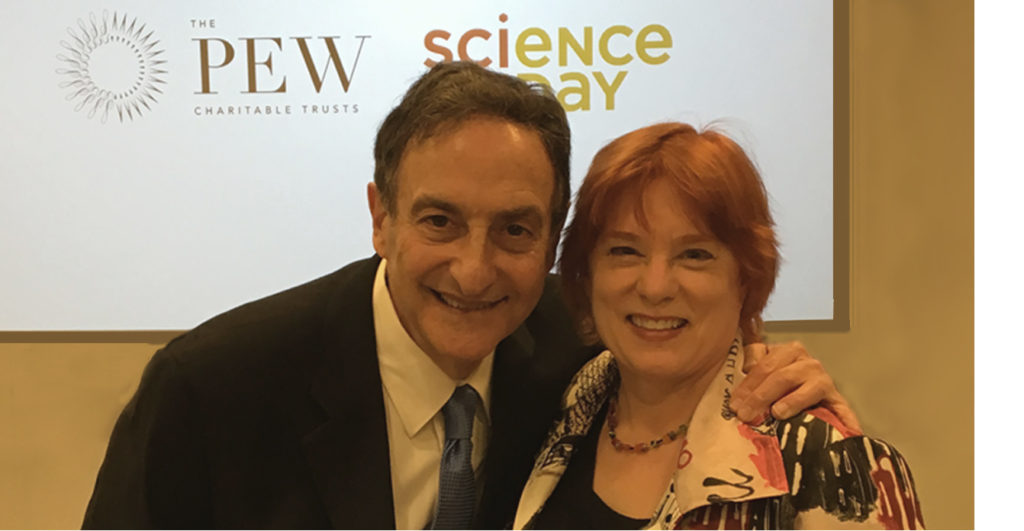 On the air interview with Misha Angrist, professor of genomic science and policy at Duke University, about his book "Here is a Human Being".
Radio interview with Eugenie Scott, former Executive Director of the National Center for Science Education (NCSE), discuss communicating evolution science to the general public.
Radio interview with Sean B. Carroll, Evolutionary Development Biologist discuss writing his book "'Remarkable Creatures".
On the air interview with cosmologist James Peebles, Princeton University, and Keith Olive, particle physicist, University of Minnesota, and Fellman discuss their research and developments at CERN.

Art Shows and Traveling Exhibits
Urban Research and Outreach Center (UROC) exhibit "Ancestry: Diversity and Commonality in Community" commissioned by the University of Minnesota. Shown above is a gallery visitor reading the genetic ancestry story of Khao, a man from Laos. Khao was one of the five participants whose DNA portraits made up the exhibit.
North Carolina Museum of Natural Sciences exhibit of DNA Portraits on display for the Evolution 2014 conference in Raleigh, North Carolina and remains on permanent display.
DNA Portraits at the Iowa City Capitol Museum, University of Iowa, during "What Makes Us Human" two-month program.
Costa Rica "Darwin and Biodiversity" display and presentation to scientists at the conference on evolution and the environment.
Polyforms and DNA Portraits displayed at Truman Medical Center, Kansas City, Missouri.
The Bell Museum of Natural History exhibit of portraits and educational graphics during "Year of Darwin" three-month program at the University of Minnesota.
"What Makes Us Human" display of DNA art and silks at the Nobel Conference. The conference is a scientific meeting for the general public at Gustavus Adolphus College in Minnesota.
DNA art and silks displayed during Evolution 2008, the annual international conference of biological societies. American Society of Human Genetics (ASHG) display of art and silk at the 2007 conference in San Diego, California.
Ted Style Talks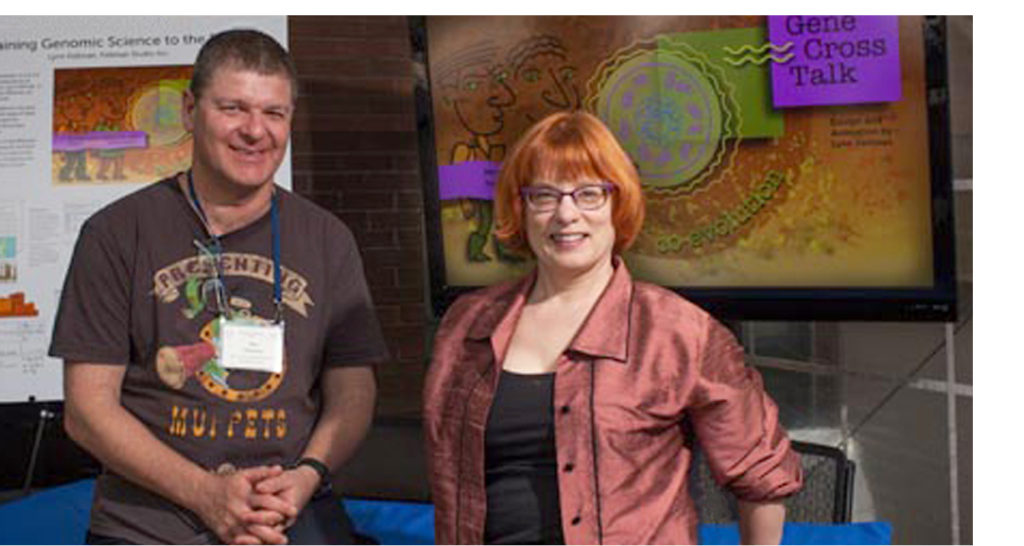 Professor Dan Mishmar and Fellman (above) in front of her animation and poster at Cold Spring Harbor Lab (CSHL) during Biology of the Genome meeting. Fellman is artist-in-residence at CSHL during the meetings she attends.
Fellman was awarded a Senior Scholar Fulbright grant to develop the animation titled "Cross Talk for Coevolution". She spent four months in Dr. Mishmar's lab at Ben-Gurion University of the Negev, Israel, to produce the animation about his work on the evolutionary aspects of mitochondrial DNA. Fellman spoke to the faculty and students at Ben-Gurion University of the Negev about her project.
North Carolina Museum of Natural Sciences: Dr. Julie Horvath and Fellman spoke together (shown below) on the Daily Planet stage about understanding human evolution with data from genes and bones. The talk referenced Fellman's DNA Portrait Exhibit on display at the Museum of Natural Sciences in Raleigh, North Carolina.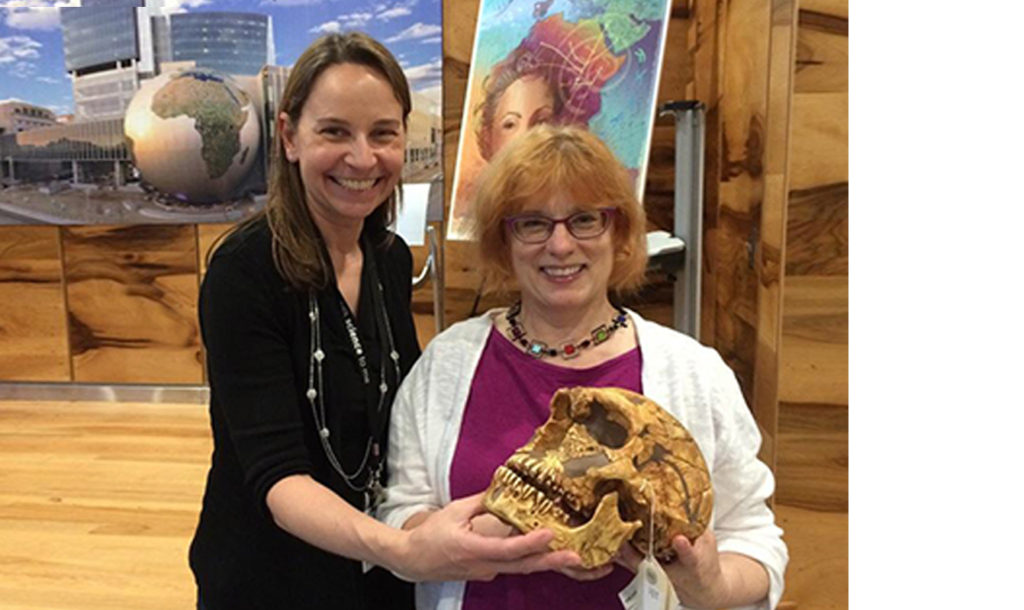 "We are Multis" lecture to faculty and students at Duke University Center for International Studies, for Globalization and the Arts seminar series.
"Neanderkin" presentation to scientists at the Society for Molecular Biology and Evolution conference, Dublin, Ireland.
"Who's Your Daddy?" presentation to 125 African American students during the 2012 annual American Association for the Advancement of Science (AAAS) meeting in Washington D.C.
"Waking Sleeping Beauty an Evolutionary Tale" presentation with Professor Perry Hackett, University of Minnesota geneticist about the re-awakening of an ancient fossil gene.
"Confluence of Art and Genetics" talk to faculty and students at the Human Genetics Department's monthly seminar, Pittsburgh University, Pennsylvania.